Or as I like to call it,
Buffy Toy Theater.
Lately I've been making parody comics with my Buffy action figures. (Like
this one
, and
this one.
Until now I haven't posted them in my LJ, but I decided to post my latest one because it makes me giggle. :-D
So here it is, Buffy Toy Theater episode #3: "Walkin' On Sunshine."
Warning: Anyone who likes the
Twilight
books and doesn't have a sense of humor may want to avoid this one. :-P
Click the pic for page one!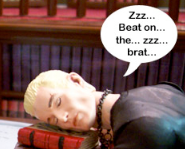 Page 2
Page 3
Page 4
Page 5
...
Current State of Mind:
nerdy
Current Music: Ben Folds Five